NEW WEBSITE AIMS TO GIVE BACK TO THE LABORATORY COMMUNITY
GiveBack365 Offers Student Enrichment, Mentoring, Scholarship, and Disaster Relief Resources for Current and Future Laboratory Professionals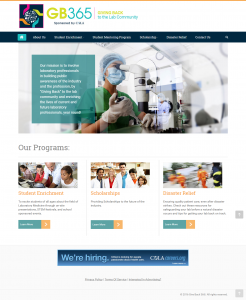 COLUMBIA, MD, December 5, 2016 –   GiveBack365 (www.GiveBack365.org), a new community initiative and website sponsored by COLA, aims to build public awareness and support of laboratory medicine by encouraging industry partners to "Give Back" and help to enrich the lives of current and future laboratory professionals, 365 days a year.
The program provides resources to current and future laboratory professionals while encouraging industry partners, including laboratories of all sizes, educational institutions, regulatory agencies, membership organizations, manufacturers and more, to get involved in promoting the value of laboratory medicine.
The foundation of GB365 is based on four key components: Student Enrichment, Scholarships, Student Mentoring, and Disaster Relief Resources.
Student Enrichment
GB365 provides resources for any organization interested in exciting students of all ages about the field of laboratory medicine through on-site presentations, STEM festivals, and school sponsored events. Resources include a "Give Back School Speaking Kit," career posters, videos, and interactive laboratory experiments.
Scholarships
As an expansion of the COLAcares Scholarship Program that was established in 2012, GB365 offers $500 scholarships to aid students currently pursuing a degree in the field of Medical Laboratory Science within an accredited program. Students can currently sign up to be alerted when the 2017 scholarship application is available and view winners from previous years.
Industry partners can donate to the GB365 Scholarship Fund to help support the future of laboratory medicine. Scholarship levels are available from Bronze ($500) to Gold ($2,500). One hundred percent of industry donations go towards awarding scholarships to qualified applicants.
Student Mentoring
GB365 connects students considering or currently pursuing a MLT or MLS degree with professionals in the industry that can help answer their career questions. Additionally, GB365 offers a comprehensive FAQ about laboratory careers. Industry partners can sign up to provide general or specific mentoring advice.
Disaster Relief
When disaster strikes, the number of patients seeking care increases drastically, making the need for quality and reliable laboratory services vital. GB365 provides resources and support to laboratories before, during and after a natural disaster occurs; including tips for safeguarding your laboratory.
"GB365 was built around the idea of creating a unique, community-reinforcing program that brings awareness to the clinical laboratory profession," said Douglas Beigel, CEO of COLA.  "With so many Medical Laboratory Technology and Science programs closing their doors, there is a greater need than ever before to spread knowledge and interest in the profession among students of all ages, to ensure the future of quality laboratory medicine."