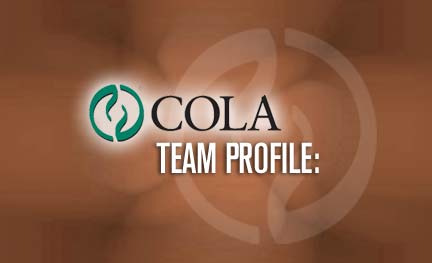 Ask Terri Scott what she enjoys most about her job, and she will tell you it's all about the people.
"I enjoy interacting with our customers, and having the opportunity to help them," Scott answered. She mentioned a recent interaction with a customer who called to register for one of COLA's classes. After successfully registering, she called back and asked for Scott specifically so she would personally help one of her colleagues register as well. "I just really appreciated your hospitality when we spoke earlier," Scott remembers her saying.
A Medical Technologist by training, Scott's responsibilities focus mainly on customer service, specifically by performing the role of educator. Because of COLA's unique offering of educational tools, services, and products, Scott is able to provide customers convenient, one-stop availability for materials and resources not available to clinical labs from anyone else.
She describes her goals as "educating customers about COLA's products, and CLIA requirements and COLA criteria and how best to meet them." Many of her interactions are with customers interested in receiving one of COLA's products or signing up for a webinar, a class, or COLA's upcoming symposium, taking place from April 27 – 30 in Atlanta.
"We receive wonderful feedback from customers for all the products and services we offer," Scott explains. "They like what they are seeing, and they need what we can provide them." Scott explains that this is because the information COLA offers them is not merely theoretical, but has "practical applications and everyday usefulness."
Scott personally contributes to COLA's ability to provide thought leadership to members by researching CLIA requirements, COLA criteria, and other topics that members would find interesting to broaden her own understanding and identify issues of special importance to COLA members. She characterizes it as "customer-oriented research" members would otherwise have to do themselves. Scott conveys the substance of her research through Insights, COLA's e-newsletter which publishes six times a year.
Scott singled out the webinars COLA offers as the focus of growing customer interests. To date, COLA has organized seven webinars on topics related to COLA criteria. The first had only 22 registrants and 11 actual participants. A total of 405 customers either participated in the most recent one or requested the archive link. Scott said that the webinar program may be expanded to address technical as well as criteria-related topics.
Before coming to COLA in August 2009, Scott worked as a Quality Assessment and Education Coordinator in Johns Hopkins Hospital's Immunology Lab. She found her new customer service role to be a comfortable fit.
"Working at COLA offers me the best of both worlds," she explained. "COLA allows me to be creative and utilize my scientific background. In the process, I get to give our customers both the service and the expertise they deserve."