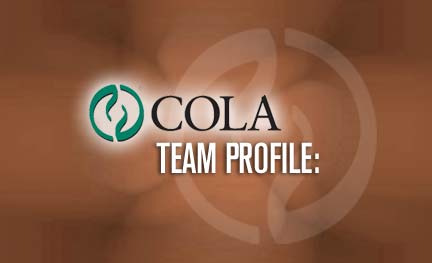 When asked why he came to COLA, Chief Counsel Bob French demonstrates his legal reasoning and background. He cites a number of well-reasoned intellectual arguments – his regulatory background, his management experience, his interest in technology – in support of his decision to change careers.
But the last point he makes is the most resonant.
"I wanted to get into a field that had some social good," French states. "Working in healthcare offers the opportunity to do something beneficial. And, COLA was an up-and-comer in the healthcare world."
Before coming to COLA, French's career spanned the legal, financial, and banking worlds. He held several positions at MNC Financial, including vice president, and also advised legal clients on business law matters, including regulatory compliance and taxation.
Signing as COLA's Accreditation Division Manager 17 years ago allowed French to apply his regulatory expertise in new and different ways. Now, in his current capacity with the company, French balances a number of different roles.
As the company's chief lawyer, he offers legal guidance to COLA CEO Doug Beigel and members of the leadership team, reviews contracts and other agreements, serves on the executive leadership team, and prepares the company's annual business plan. He also chairs two of COLA's standing committees – STAT and Policy – while serving on others.
As compliance officer, he serves as COLA's chief liaison with CMS, the Joint Commission, and state and regional authorities. "I make sure we comply with all agreements, regulations, and reporting requirements," he states. He serves as point man for COLA's monthly meetings with CMS, and oversees the deeming approval process which culminates in February 2013. He also represents COLA at CMS's annual partners meeting attended by other accreditation organizations, Departments of Defense and Veterans Affairs officials, representatives of New York and Washington – the two non-CLIA states, and others.
As corporate secretary, French records the minutes for meetings of COLA's board, the board's executive committee, and COLA's finance committee. He also describes himself as the "keeper of official COLA policy."
For French, his contributions to COLA impact him on a personal level. Both of his elderly parents rely on the professionalism of clinical labs. "If we do our job properly, we are always asking ourselves, 'Is this lab someplace we'd want to go ourselves or send a family member to?"
"The work we do at COLA affects a lot of people," French noted. "People depend on us to get it right. Either we get it right, or someone's life can be placed in jeopardy."