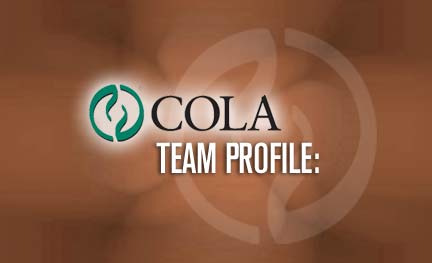 You know you're doing something right when someone sends you flowers.
Just recently, COLA Call Center Sales and Customer Service Representative Rachael Kelly experienced this firsthand when East Main Vision Clinic, a laboratory based in Puyallup, Washington, sent her a colorful spring bouquet to thank her for her assistance.
When asked what she thought prompted the gesture, Kelly answered, "I was always ready with an answer when they needed me."
Kelly's comments demonstrate her enthusiasm for her duties. She describes herself as "customer focused," and while she enjoyed the flowers and the recognition they brought, she especially appreciates having the opportunity to "do things right and keep customers happy."
Kelly deals with current or prospective customers all day long – promoting COLA's products and services, answering general questions, providing support for COLAcentral.com. She estimates that she speaks to 100 people or more per week. She says she especially enjoys attending COLA's annual symposium because she enjoys meeting many of the people she interacts with on the phone.
She provides support to internal customers as well. "People across the company see me as a resource in the sales department. They know that if they come to me with a question or a problem, they can count on me to have an answer or provide insight into a solution," she explains. "I stay informed about events at COLA so I can better help people," she states, describing herself as "devoted and committed" to her duties.
Kelly has also emerged as the voice of COLA in a very literal sense: Her voice is heard on the company's phone system prompts and webinar broadcasts.
Kelly came to COLA in 2004 after working for a property management company, and has never looked back. For her, an especially good day at COLA is when her "sales and customer service skills result in lab enrollments and satisfied customers."
"I believe in COLA's mission, and it's very rewarding when a lab switches to COLA because I have helped them realize the value and benefits of our accreditation program," Kelly stated.