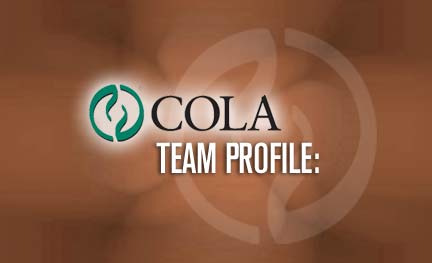 Larry Senior, COLA's Senior Network Engineer, believes in doing his homework.
When asked to describe his principal function in the company, "research" is the word he most frequently uses. "I perform research and make suggestions on new technological options," he explains. "Then, I report back to Kirk (Couser, COLA's CIO) and other COLA leaders if there are ways we can improve upon current systems."
COLA's state-of-the-art phone system is the perfect example of how Larry helps turn research into reality.
"Our old phone system was outdated," he explains. "It did not offer the kind of reporting we needed. It was plagued by frequent outages. We wanted something more stable, reliable, and functional.  And, we wanted a system that would create a virtual work environment."
Larry initiated his research April 2010. "I wanted to see how may calls were coming into the present system, where they were going, and how much time was being spent on phones," he explained. "Once we had this information, we started meeting with vendors and researching the various systems."
The new system, which debuted in March 2011, gives all COLA's virtual employees the same functionality as people at headquarters, and lets customers connect quickly with the person who can help them. "We had a vision, and we realized it," Larry states.
Larry commended CIO Kirk Couser and other COLA leaders for building a culture that stresses, "innovation and the freedom to do things differently." He also considers progress the result of a team effort. "We wouldn't be able to improve on what we have if people were silent," he explains. "I would have no motivation to go out and improve things without staff input and feedback."
Larry's daily duties also include making sure COLA's technical systems are kept current, functionally normally and optimally, and safe from cyber-attacks.
He credits the people he has met at the best thing about working at COLA. "We are all different but we all get along so well.  It really is a great environment, and a great group of people."
For him a good day at the office is one in which he can focus on performing research and moving long-term projects towards reality. "As long as stuff doesn't break, I'm happy," he states.