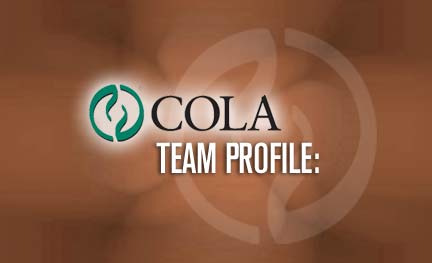 COLA's reputation as a thought leader hinges upon the quality of its staff, and its collective willingness to embrace innovation as a necessary, always unfolding process. There is no better example of innovation in action than COLA's IT Division, headed by Chief Information Officer Kirk Couser.
Couser characterizes his role as supporting development of new ideas and their evolution into products and services that creates excitement in the clinical laboratory community. "We work to ensure COLA has the technological resources needed to remain the leader in our industry, while supporting the efforts of everyone at COLA," he explains.
At the heart of Couser's approach is a willingness to push the technological envelope, rather than embrace and maintain static solutions. For Couser, just because something seems to work well enough isn't a good enough reason to not look for a better way to do it.
"We're always looking for ways to support our labs through technology," Couser stated. "We want them to look to us as a solution provider everyday."
"You know you're succeeding when your customers are not only using your products, they're asking us for more," he adds. "When the expectation exists that we will continue to provide better services, customers will remain with us."
This mindset has resulted in a slew of innovations not seen anywhere else in the industry.
"COLAcentral not only supports compliance, but is designed to helps our labs manage their practice," Couser states, citing its document repository feature as an example of its practical functionality. Additionally, COLAcentral's flexible platform gives COLA opportunities to add other features in the future, such as the competency assessment tool for staff presently under development.
Couser also cites COLA's Eval tool, which allows COLA surveyors to perform their duties in a faster, more efficient, environmentally friendly manner, as another success.
"When we presented Eval to CMS, they loved it," he said. He credits feedback from COLA's surveyors as playing a critical role in tackling some early challenges. "Our surveyors in the field have had as much of a hand in its success as the IT team did. With their continued help, the system will evolve to allow more time for education in the lab and less time needed for data entry."
Additionally, COLA's state of the art phone system "empowers customers to connect quickly with the person who can best serve them," Couser observes. "We will soon deliver this same functionality to all of our virtual employees."
For each of these successes, Couser credits the efforts of his team. "I am fortunate to work with a team that is so committed to COLA's mission. It's not uncommon to find them working nights or weekends when necessary because of their passion to support and create products that ensure we're extraordinary." IT Customer Service Representative Sandy Williams, he explains, "gives customers the personal touch."
Before coming to COLA in May 2008, Couser worked as an executive in the financial industry. His decision to take a job in the healthcare industry was, to some extent, driven by personal as well as professional motives. His seven year old son, David, is diagnosed with autism. "The lab industry has had a very big impact on our lives," he states. "For someone who visits labs frequently and relies on results that directly impact our son's success, working here is a very personal experience."
"Working here gives you a chance to change people's lives on a daily basis," states Couser, who especially enjoys COLA's culture of innovation. "The freedom to innovate and do things differently allows us to evolve," he states. "Having the opportunity to be involved in creating solutions is a great part of my job."