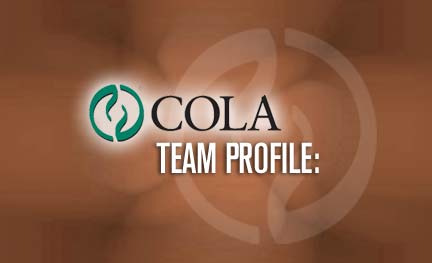 COLA's Quality Systems Manager focuses on getting it tight – and making it better.
When it came to choosing her career, Kathryn Connolly, COLA's resident quality ombudsman, experienced her "eureka moment" at a very young age.
"Growing up, I always enjoyed science and math," she explains.  "When I was in eighth grade, a med tech visited our biology class.  She brought slides, reagents, and microscopes and led us through different experiments. When I came home from school, I told my dad I knew what I wanted to be. After that, I never considered anything else."
Connolly's career took her to a variety of different clinical lab positions.  A desire for professional growth and fresh challenges caused her to seek out new opportunities every few years. Then, in January 1994, she joined COLA as a surveyor, and has been with the organization ever since.
Now, in her current role as Quality Systems Manager, it is Connolly's responsibility to help COLA improve its performance across a number of areas. She states that her job entails, "looking at the things we do and reevaluating them, questioning whether we are achieving our goals, and initiating changes as needed in documents, management, communications, training, and other systems."
While her job requires strong problem solving skills, Connolly stresses her approachability as another key asset. "I hope people can always come to me, and share ideas on how best to meet the needs of our customers and each other," She explains. "Come tell me and we will make it better."
Connolly's major recent success is the fact that COLA has been recommended for certification under International Organization for Standardization (ISO) Standard 9001:2008. ISO certification is both highly coveted and difficult to achieve. Achieving this credential means that our customers can have confidence that our products and services are designed, implemented and managed to ensure that required specifications are met.  Voluntarily seeking independent third party evaluation of our processes and management systems demonstrates COLA's commitment to continual improvement.
Connolly coordinated the ISO process for COLA. She worked closely with the external auditor from British Standards Institute (BSI), who spent 20 hours observing COLA's team members perform their work, including accompanying a surveyor in the field and watching technical advisors reviewing paperwork from the Plan of Required Improvement (PRI) process. As a result, COLA is now the only healthcare accreditation organization deemed by CMS certified to ISO's 9001:2008 standard.
Connolly, whose personal involvement in the ISO process dates back to 2006, stresses the role teamwork played in this successful outcome. "During the past year, COLA's leadership really threw their weight behind it, and ISO became an organizational priority," she explains. "When that happened, it became a priority for everyone. When everyone focuses on and commits to the same goal and walks down the same path, that's when you achieve success."
Like other members of the COLA team, Connolly's personal history helps inform her COLA experience. Her mother passed away when she was young, and she attributes this event as helping to inspire both her and her brother – a physician – to enter the medical field. "That kind of experience really helps you see things from the patient's perspective."
It is therefore not surprising that she gauges her success, in part, by the internal and external feedback she receives. "I like it when I see something get better, when the customer says, 'Thanks for doing that.' It is satisfying to see a challenge, fix it, and realize you helped make it better."