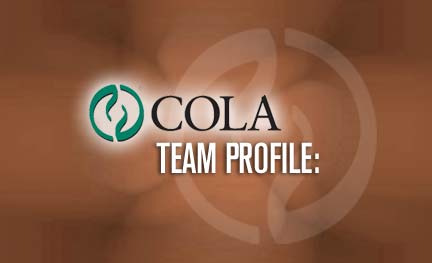 Judy Dixon, an eleven-year veteran of COLA's survey team, acknowledges the fact that she has a "reputation."
"I don't know how I got it," Dixon explains. "I just do my job."
Judy's reputation pertains to her status as one of COLA's busiest surveyors. "Last year I was slated to perform 280 surveys, but I wound up breaking 300 at the time of my last evaluation," she explains.
The reason for Judy's super-surveyor rep? She's always on the go, performing surveys from Monday through Friday. A resident of South Carolina, Judy typically performs surveys throughout the southeastern United States, but has traveled to Maine, California, Alaska, Hawaii, and Bermuda to visit clients when necessary.
"I had so much vacation time accrued that the company is making me take some before I lose it," Judy says with a chuckle.
Before coming to COLA, Judy worked in a hospital lab in South Carolina. She describes herself as a "generalist" whose diverse background qualifies her to survey labs spanning a variety of different specialties.
"I enjoy using the knowledge I gained in the lab to help other people, and to guide them in the right direction," she explains.
Like her lab experience, her surveying experience spans the spectrum.
"Once I was performing my fourth survey on a lab that had never achieved the 'Lab Excellence' award," Judy recalls. "They told me at the previous survey that they really wanted it. Well, when the survey was completed, they had no citations and no proficiency testing failures.
"They achieved their goal, and they were so overjoyed over it they were actually jumping up and down. They were proud of their accomplishments, and they knew their patients were getting the best care they could provide."
On another occasion, Judy had to deliver some findings to a POL head who was very disappointed by the news. Judy spent about seven hours working with the lab staff to make sure they understood what was needed to remedy the issues she had found. "The doctor and I parted on positive terms," she explains.
She calls a positive survey experience one in which she has given the client enough information to comply and succeed. "When I come back in two years, I'm always very happy when I see improvements."
She says that the quality of the people at COLA is the best facet of working here. "It's a great group of people, and truly a family atmosphere," she states.