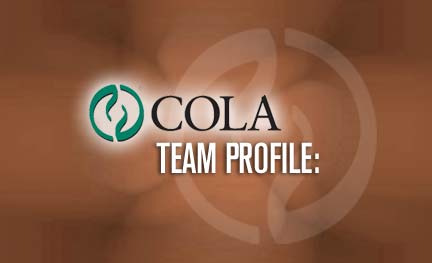 The combination of thought leadership and emphasis on technological innovation COLA provides its members are what sets it apart in the industry. Jarred Capellman, Senior Developer in COLA's IT Division, personifies these qualities.
Jarred joined the COLA team officially about a year ago, after three years of working as Vision Multi-Media's resident consultant. In effect, he serves as COLA's resident IT innovator – the person charged with developing and implementing technical solutions enabling COLA to meet clients' needs in an always unfolding, improving fashion.
"For me, a good day would be having six or seven hours of time to focus on developing new technologies," Capellman stated. It was that commitment to innovation which prompted him to play a key role in development of the "Eval" system which allows COLA surveyors to perform their duties in a faster, more efficient, environmentally-friendly manner.
Capellman explained that the previous tool used by surveyors was slow, cumbersome, and inefficient. "It took surveyors a longer time to perform their surveys," Capellman explained. "And, once the surveys were complete, other COLA staff members had to process the data."
Capellman recalls that, on Christmas Eve 2008, he approach Kirk Couser, COLA's Chief Information Officer, with an idea. "We wanted to craft a solution which reduced the time required to sync data, and eliminated the need for any COLA employees besides the surveyors themselves to be involved in the process."
The solution was a survey product installed on each surveyor's computer notebook. "The new system is paperless and doesn't require a live Internet connection in the field while the survey is underway. The data can now be recorded in the field and easily uploaded by the surveyors themselves later," Capellman explains.
Eval also brings greater transparency and predictability to an often slow and complex accreditation process. Labs often have to wait for their survey results because of the technical limitations faced by surveyors and the accrediting organizations they work for. This new tool allows COLA surveyors to provide preliminary results on the spot.
Eval launched in September 2009, and version 2.0 debuted a little over a year later. Capellman explains that Eval has been well received by surveyors, clients, and other key stakeholders. "I spoke to a group of CMS staffers about Eval, and received a lot of great questions and positive feedback," he remembers. "They had never seen anything like it before."
Capellman says that the thing he enjoys about working at COLA the most is the freedom he experiences to enterprise new ideas, and the encouragement offered by senior management to develop them into reality. "This has really helped to give COLA a reputation for being a vanguard within the industry, as well as a go-to organization for new ideas," he stated.