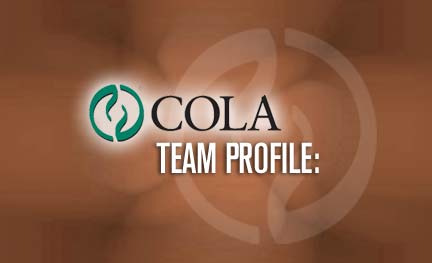 As a Technical Advisor in COLA's Accreditation Division, Geri Scheid fields about 100 customer contacts a week from lab representatives depending on her to help solve their problem.
In each case, their problem is the fact that their accreditation survey turned up quality or other issues to be addressed, resulting in the need for the lab to complete a Plan of Required Improvement (PRI) before their certificate of accreditation is provided.
"A lot of times," Scheid says of the clients who call her, "they look to COLA for guidance." She explains that she provides this help by "taking them by the hand and walking them through the process."
Based on the surveyor's observation, COLA prepares a PRI, which is reviewed by COLA's Technical Committee before it is returned to the client for action. Scheid said that the lab receives the PRI usually no later than a week after the initial survey is performed.
Scheid then works with the client as they develop a "concrete action plan" addressing issues raised in the PRI. The client has 10 days to submit their action plan, and a month to submit supporting documents demonstrating that the plan has been implemented.
Scheid explains that what sets COLA apart from state health departments and other private accreditation organizations is the guidance which COLA provides to clients at each stage of the process. "We perform all the post-survey work needed to get the labs to compliance," she explains. "We stay with them. We tell them exactly what to do. Where necessary, we help them tweak their action plans."
A medical technician with 17 years of experience, Scheid's duties require a mix of both customer service and education. "We guide them to materials already available on COLA.org and COLAcentral.org, from lab guides, in free quality assurance classes which COLA offers, we know can help," she explains.
Scheid said that she places special emphasis on providing clients with a "depth" as well as a volume of knowledge. "When we give them recommendations, we want them to know the background behind them. We don't want them to implement a change just because we tell them to. We want them to know the why," she stated.
Before coming to COLA, Scheid worked in a physician-operated lab in a private practice. "Ensuring quality in the lab sometimes meant protecting your own safety as well as your patients." Today her responsibilities involve safeguarding both the professional health of COLA's members and the patients they serve. But her commitment to achieving the desired outcome remains the same. "My job isn't finished when the labs receives their certificate. I am a part of their accreditation process every day," she stated.