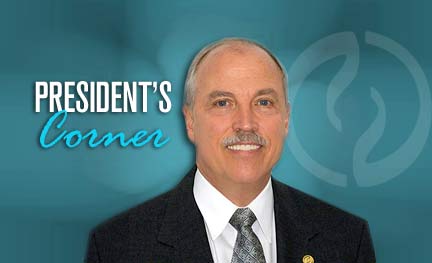 It's 2012…Do You Know Who Your Congressman Is?
By Doug Beigel
Perhaps you've heard the following phrase before: "It's 11 PM…do you know where your children are?"
In light of everything happening in the public policy arena related to healthcare right now, I suggest that a new phrase is in order: "It's 2012…do you know who your congressman is?"
As you know, laboratories are involved in about 70 percent of all diagnostic decisions. But because a lot of the work they do occurs far away from the vantage point of patients and the public, the important role played by laboratory medicine in the overall healthcare system does not get the credit or attention it deserves.
That's not really anyone's fault, as laboratorians are too often busy doing their jobs to engage in self-marketing activities. But I suggest that it has never been more important for the public, and our elected officials, to have a grasp of who we are and what we do.
Due to the dire budget situation in Washington, Congress and the president must agree on $1.2 trillion in cuts during 2012. These cuts would begin to take effect in January 2013 and extend over the ensuing decade. Various impacts to laboratory medicine – such as requiring a patient copay or deductible for lab services under Medicare – have been discussed.
The Supreme Court is now reviewing the constitutionality of the Affordable Care Act – "Obamacare" to some – and is expected to issue a ruling sometime this summer. How this might impact laboratories is anyone's guess.
And, the lab industry continues to be plagued by current and projected shortages of qualified workers. This impacts not just us, but potentially the well-being of the patients we serve as well.
Of course, everyone should know how important the work we do is. But laboratorians do themselves a disservice by assuming that everyone does.
To that end, I encourage you to take proactive steps to tell your stories. And, a good first place to start is with your local member of Congress.
COLA did this just recently, when we invited our congressman, John Sarbanes (D – 3rd., MD) to visit our offices. I had a chance to meet with Rep. Sarbanes and members of our team during a Capitol Hill day last fall. So inviting him to pay us a visit during Congress's Easter recess was a logical follow-up step.
Who your congressman is depends entirely upon where you live or where your business is located. Nonetheless, COLA fared rather well in the congressional lottery. Not only is Rep. Sarbanes an expert in healthcare policy – he chaired the healthcare practice of a major Baltimore law firm before his election to Congress – he serves on the House Energy and Commerce Committee. This Committee has broad oversight authority over federal healthcare policy – including CLIA.
Rep. Sarbanes first met with members of our leadership team, who introduced him to COLA and the specific niche we play in the healthcare system. He asked targeted, insightful questions pertaining to the mechanics of how laboratory accreditation works. We then shared with him some of the public policy issues on our radar screen, including lab workforce development. The congressman was especially interested in our efforts to engage returning veterans in careers in the laboratory, as this dovetailed with some of his own initiatives.
Then, Rep. Sarbanes spoke to COLA's assembled employees, where he touched on a wide range of healthcare-related topics. The entire visit took about 75 minutes. The experience was mutually beneficial for COLA, who had the chance to build a relationship with its representative, and Rep. Sarbanes, who left feeling his time had been well spent.
Based on our experience, I encourage all of you to find out who your own congressional representative is and to reach out as well. If you run a lab, invite him/her to take a tour. This is a good opportunity for you to play the role of educator, and for them to meet constituents and perhaps gain a little publicity during an election year.
Our elected officials are there to represent us. That job gets easier when they have a personal awareness of the people and businesses they represent. Once you engage them and their staffs, I think you'll find they are receptive to the issues important to you.
If you would like to follow COLA for more timely updates and industry perspectives, you can follow/subscribe at the following links: