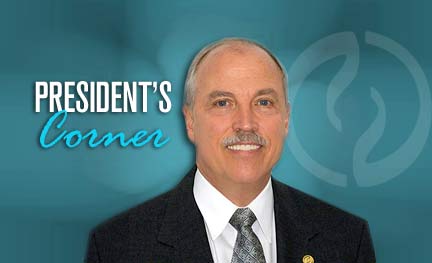 If you would like to follow Doug directly for more timely updates and industry perspectives, you can follow/subscribe to him at the following links:
Thoughts on COLA Cares Week 2011
By Douglas Beigel, Chief Executive Officer, COLA
At COLA, we're all part of the same work community. Together we help promote patient safety by promoting lab excellence. Considering that lab testing impacts more than 70 percent of diagnostic decisions, the COLA community's efforts impact a lot of people.
Individually, however, we are all part of two other communities: The lab community in which we serve and the society where we all live. What's more, these communities are not separate entities. Each is overlapping, sharing both members and responsibilities to the whole.
In the past, COLA hosted an annual "Community Week" of training sessions and other team-building activities for our staff from all across the nation. But this year, we decided to take a broader focus. This year, we launched "COLA Cares Week" to give members of our team a chance to give something back not just to each other, but to all three concentric communities.
COLA Cares Week was planned with three different "whys" in mind.
First, labs are important. Their role in patient care is less visible, but every bit as critical, as that of nurses and doctors. By one estimate, hospitals alone conduct 5.7 billion laboratory tests for both inpatients and outpatients in the United States.
That's why we kicked off COLA Cares Week at Maryland General Hospital, a busy community hospital in Baltimore, Maryland. Maryland General treats 110,000 patients – many from vulnerable populations – and manages a test volume of one million samples each year.
The second why: Lab quality is important.
Flawed lab work can trigger bad decisions, resulting in lost time, wasted medical resources, or – in extreme instances – compromised safety and well-being for patients and their families.
No one understands this challenge better than Maryland General Hospital. In 2005, the hospital was embroiled in a major lab quality scandal which played out in the media and drew the attention of a major congressional committee.
Just recently another Maryland-based lab controversy unrelated to Maryland General underscored the importance of establishing and adhering to standing processes and procedures in order to ensure lab quality and protect patient safety.
Fortunately, the leadership of Maryland General saw its setback as an opportunity to improve. During our visit, Team COLA was treated to a tour of the hospital's impressive new lab facilities.
Later that same week, I had a chance to sit down and discuss lab quality issues with Rep. Elijah Cummings (D-MD), who represents Maryland General Hospital in Congress and was a leading voice for reform when news of the scandal broke. Among the issues Rep. Cummings and I discussed were the challenges to lab quality presented by the rise in waived testing, and COLA's becoming the first and only CMS-deemed accreditor to achieve ISO certification.
Lastly, careers in the lab sciences are important.
According to the Bureau of Labor Statistics, more than 40,000 current lab jobs are vacant in the United States. And, while there is a need for 14,000 new lab professionals annually, educational programs produce only 5,000 per year.
What's more, according to a recent survey, 36 percent of lab workers are baby boomers ages 50 – 59.
Rising to this challenge, COLA hosted a "Give Back Day" event at the Community College of Baltimore County – Essex. There we met with college students to discuss and demonstrate the opportunities posed by a career in the lab sciences.
Our first Give Back Day, held at two schools in Baltimore City, drew an enthusiastic response among the middle school students who participated. We answered their questions and engaged them in a series of exciting lab demonstrations. At one of the schools, a majority of kids raised their hands when we asked them if they would consider a laboratory career.
In keeping with COLA's mission, educational activities dominated a good part of the week. COLA partnered with CMS to co-present one technical training session, and our newest board member participated in another. Members COLA's board and CMS representatives were a constant and active presence throughout the week.
Tinkering with longstanding events can be a tricky proposition, but I was pleased at how COLA Cares Week went. The COLA surveyors who traveled to Baltimore from across the nation returned home well-positioned to serve as ambassadors for lab medicine in each of their communities.
And, the training they take back with them will help them fulfill COLA's commitment to enhance patient safety by always improving its ability to deliver quality to the labs it serves.