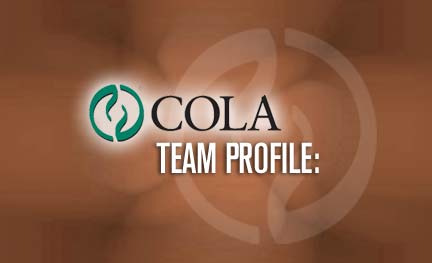 Doug Beigel recently announced that pathologist and COLA surveyor John Daly, M.D. has been named COLA's new Chief Medical Officer (CMO).
Daly's new position is the latest milestone in a long and distinguished career as a pathologist and a laboratory scientist. He retired from the Duke University School of Medicine in 2009. Dr. Daly was Director of Clinical Laboratories for the Duke University Health System from 2005-2009. A longtime resident of Durham, NC, Dr. Daly was quite active in the local medical community, joining the staffs of three area hospitals and serving as a member of various hospital committees. He earned his M. D. at Cornell University Medical College, and performed his internship and residency in pathology at Duke University Medical Center. He is also a veteran of the U. S. Navy.
After retiring, Dr. Daly continued his contributions to laboratory excellence by serving as a COLA surveyor. He presently resides in Marco Island, Florida.
"I welcome the opportunity to serve as CMO for COLA," stated Dr. Daly. "The COLA mission, combining education and consultation with accreditation is so important for the laboratories we serve and I am pleased to be a part of this organization and thrilled to have this new position."
COLA's CMO provides professional medical knowledge and experience to give the "clinical voice" in the implementation of COLA's policy. The position requires a proactive approach to the development and implementation of COLA policy in a continuously evolving healthcare environment, with a constant and steady focus on quality laboratory medicine and patient safety.
To facilitate the process, a Search Committee consisting of COLA's Board Chairman Dr. Verlin Janzen, COLA team members Doug Beigel, Matt Hopwood, Susan Trask, Kathy Nucifora, Kathryn Connolly, Dr. Bruce Ross, and others developed a job description and a list of interview questions for candidates. The committee also developed a list of stakeholders – including CMS, COLA clients, and MLT programs – from which feedback and recommendations were solicited.
"Our goal was to find the right person," COLA CEO Doug Beigel stated. "After an extensive search, I am pleased that we were able to do so from within our own ranks."
Dr. Daly's appointment was enthusiastically received by other COLA team members.
"I have come to know John as a passionate and tireless advocate for quality lab services," stated Kathy Nucifora, COLA's Accreditation Division Manager. "In addition, he is delightful to work with! He is approachable and respectful to the staff, and a model team player. I look forward to working with him as Chief Medical Officer."
"John understands the needs of our clients and supports their ambitions by researching cost effective solutions and educating them on the best option to improve patient care with their available resources," stated COLA's Education Division Manager Zerela Henry.
"This is just what COLA needs," said Technical Advisor Geri Scheid. "I have worked with him and he is great."
"John understands the importance of ensuring lab quality and its role in protecting patient safety. I'm thrilled that John accepted the position, and am looking forward to working with him in his new role," Beigel concluded.