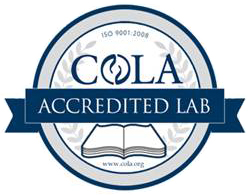 COLA CEO Doug Beigel, COO Paul Campognone, Chief Marketing Officer James Liggins, and Government and External Affairs Manager Richard Cross recently traveled to Washington to speak to about 30 members of AdvaMed, a trade association whose members make medical devices, diagnostic products and health information systems.
The COLA representatives discussed the overall role of laboratory medicine in the healthcare system, and shared specifics about COLA's Patient-Centered Laboratory Excellence (PCLE) program and Continuous Quality Initiatives. The role of PCLE is to help labs integrate into new healthcare payment and delivery models such as the Patient-Centered Medical Home. The goal of CQI is move laboratories beyond mere CLIA compliance and towards a new model which stresses a sustainable culture of quality achieved on a daily rather than a biennial basis.
The COLA presentation was well received by the AdvaMed member representatives in attendance. AdvaMed companies produce nearly 90 percent of the health care technology purchased annually in the United States and more than 50 percent purchased annually around the world. COLA will continue its dialogue with AdvaMed and other partners as it works to help laboratories meet the challenges resulting from ACA implementation and other rapid changes coming to the healthcare system.
If you would like to follow COLA for more timely updates and industry perspectives, you can follow/subscribe at the following links: