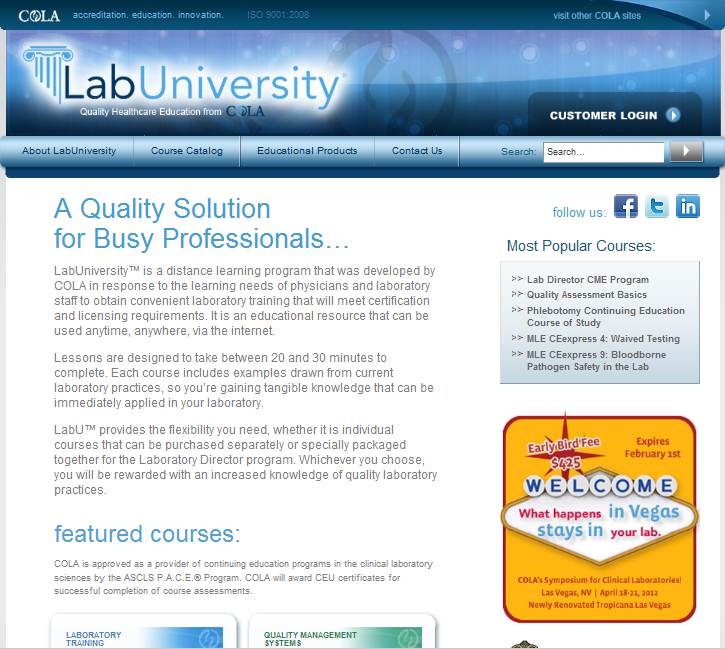 COLA has launched a redesigned version of its labuniversity.org educational platform, designed to make it easier and more convenient for physicians and laboratory staff to obtain laboratory training that meets certification and licensing requirements. The educational resource can be used anytime, anywhere, via the internet.
The newly designed microsite provides access to COLA's wide range of e-learning courses and products, each of which have been refreshed to make them easy to find, download, navigate and file. Course topics are arranged in modules and lessons, so that users can control when, where and how long they participate at any sitting. Other features of the new tool include:
• A convenient dashboard for managing portal features
• A streamlined shopping experience for accessing and purchasing courses and products
• Automatic tracking of course progression and updating of transcripts as courses are completed
• A "My Courses" section which can house all of a user's past and current courses, including uploaded non-COLA course information
• A calendar that keeps users updated on COLA symposia, webinars and other events
• Printable Continuing Education (CME or PACE) certificates of course completion
The microsite is part of the recently revised COLA.org website, which features a new and improved tool bar and quick links to COLA's other featured sites, including colacentral.org, where clients can prepare for and see their laboratory survey results; myconsultantcentral.com, an online resource for connecting consultants with the laboratory community; and colainsider.com which provides thought-provoking insights about the laboratory industry.
"We believe that our new LabU resource will provide laboratory staff with greater flexibility and convenience than ever before, whether they are purchasing individual courses or programs that are specially packaged together, such as for our Laboratory Director program," said
Douglas Beigel, Chief Executive Officer of COLA. "Each course includes examples drawn from current laboratory practices, so you'll gain tangible knowledge that can be immediately applied in your laboratory. Whichever courses you choose, you will be rewarded with an increased knowledge of quality laboratory practices, designed to improve patient care and safety."
If you would like to follow COLA for more timely updates and industry perspectives, you can follow/subscribe at the following links: