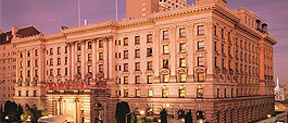 COLA is pleased to announce its 2014 Leadership Summit, which will bring together interdisciplinary healthcare leaders to collaborate on the future of laboratory medicine nationwide. The event will be held at the historic Fairmont Hotel in San Francisco on April 28th-29th. Participants will contribute their diverse ideas, insights, and knowledge towards a comprehensive paper that will explore creating a culture of quality in laboratory medicine.
The invitation-only summit will unfold in three distinct stages: First, appreciating the context—are we ready to meet the needs of the millions of people entering into the healthcare delivery system under the Affordable Care Act? Second, choosing the direction—what does it really mean to create a "culture of quality" from a multidisciplinary perspective? And finally, walking the path— brainstorm creative ideas that could have a positive impact on creating a sustainable culture of quality in laboratory medicine.
In addition, issue experts from California will offer a detailed case study on the state's extremely high standards for licensure for laboratory personnel related to education, training and experience. Increased demand for healthcare in the state has spurred policy changes that will have practical applications and valuable lessons learned for both local and national audiences.
The leaders who will gather in April to discuss the establishment of a continuous culture of quality in laboratory medicine are among the most notable and respected in their fields—but they want to hear from you. COLA's Leadership Summit Discussion topics have been opened to the public on the summit website. This is a powerful opportunity to add your unique voice and make an impact on the future of Laboratory Medicine.
We would like to hear from you on the following Summit Topics:
1. A Continuous Culture of Quality – How does regulation support or hinder the emergence of quality in laboratory medicine? What else can create the conditions for a continuous culture of quality to emerge?
2. Beliefs & Assumptions in the Pursuit of Excellence – What have you observed in our actions that reveal our beliefs and assumptions that either support or hinder progress in our pursuit of excellence?
3. Focusing on Quality – If you think about your everyday professional life in your own unique context, can you share specific examples of all the inconsequential tasks/problems that distract you from focusing on quality every moment?
4. What does Quality Mean to You – What does quality mean to you and what conditions are needed to create quality as you define it?
5. Case Study – The State of California – Dynamic fluctuations of national healthcare reform in California can be used to engage in a practical, living example while grasping generalized key lessons that can be significant nationally.
While you engage in thoughtful discussion on these topics, we ask you keep in mind the guiding principles of the Leadership Summit. Contribute your ideas by building on the ideas of others. Listen so that you can discern deeper questions, patterns, and insights. Allow yourself to be influence by others even when another's ideas appear to be in conflict with your own or lack relevancy. Be productive in and finally, be curious about learning something new.
For more information about the Summit, email Tammy Zinsmeister, COLA's Regulatory Affairs Consultant, at tzinsmeister@cola.org.