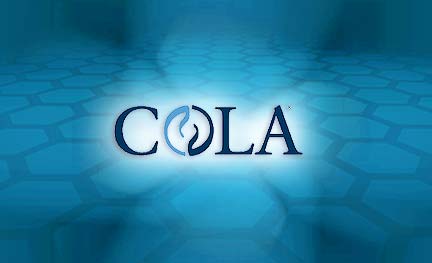 This week all COLA employees gathered in Columbia, Maryland to celebrate a year of hard work and dedication to COLA's mission. During COLAcares week all employees participate in a full schedule of training on new accreditation criteria, team building exercises, and annual celebrations.
One important component of COLAcares week is our annual COLA awards designed to recognize COLA employees who have demonstrated a true passion for promoting excellence in laboratory medicine and patient care. Below are the 2013 COLAcares awards recipients.
Rookie of the Year – Jeremy Charlier
The Rookie of the Year award is given to an individual who adjusts quickly and blends into the organization, surpasses expectations in performance of duties, and demonstrates initiative and team spirit.
Jeremy was never considered "the new guy" because he fit in so seamlessly. It immediately seemed like he had been part of the COLA team forever. Prior to completing his first six months of employment, Jeremy engaged all HQ employees within the accreditation division to learn about each role, responsibility, and the accreditation process. He took that knowledge and used it to successfully fulfill his own responsibilities in conducting internal audits and coordinating resolutions to customer complaints. Jeremy's calm demeanor, lively personality (even at 8am!), and ability to establish positive working relationships with co-workers has made him an invaluable asset to COLA. We are glad to have him onboard!
Surveyor Rookie of the Year – Kim Iversen
The Surveyor Rookie of the year award is given to a surveyor who adjusts quickly and blends into the organization, surpasses expectations in performance of duties, and demonstrates initiative and team spirit.
Talk about hitting the ground running, when Kim finished her training, she kicked the door open, flew back to the west coast, told the state of California that "I'm here!" One of the most seamless transitions to a new job COLA has ever witnessed!  Kim jumped in and took on challenging work schedules in order to exceed expectations.  She is highly reliable, technically proficient, and an awesome representative of COLA in California.  Rumor has it that she is pretty close with Richard Simmons as well.
Personal Growth Recognition Award- Susan Densford, Alexa Leekins, Becky Ritterhouse, Dawn Whittaker, Nancy Alers, Maurica Price, Jahmai Sharp-Moore, Denise Crawley, Rachael Kelly

The Personal Growth award is given to individuals who take special initiative to advance in his/her field, respond to or create opportunities for growth, set an example and serve as an inspiration for others to grow, and engage in proactive quests for continual learning.
All of our Personal Growth Recognition awards are given to COLA's ALP coaches for their decision to take on additional responsibilities to help improve their own leadership skills and in the process develop comprehensive initiatives to enhance COLA's mission.
Surveyor of the Year Award – Terry Black
The Surveyor of the Year award is given to a Surveyor who receives consistent and positive feedback from COLA laboratories, takes initiative to identify areas for improvement in the Accreditation process and recommends potential solutions, gets involved in activities to improve COLA, and displays enthusiasm for meeting COLA's vision and/or mission.
This is an individual who is one of the most hardworking, dedicated, selfless Surveyors on the team. When we needed a field trainer for a new Florida Surveyor, Terry took this on willingly and enthusiastically, even though she was still somewhat of a rookie herself! 
Terry can take the tools that COLA has provided and move pieces around to create a unique solution for each individual lab.  This is dedication – this is always finding a way. Overall, Terry is a shining example of a committed, reliable, productive, Surveyor and team member with a positive attitude.  She represents COLA with pride, and this is something we are all proud of.
Alka G. Patel Outstanding Service Award – Renee Gosda
The Alka G. Patel Outstanding Service award is given to an individual who demonstrates proactive customer focus, addresses internal/external customer needs, integrates customer satisfaction into all organizational systems, and sets an example for other employees to follow.
Renee has continuously been an unwavering advocate for COLA laboratories.  On many occasions, Renee has taken extra steps, after hours, to make sure that the customer gets the communication and response that they deserve from COLA.  Renee is highly productive, as she recognizes the importance of surveying labs on time, to meet our commitment. 
Renee's documentation in survey reports is well constructed and detailed, in order to serve the customer better, and in order to meet CMS expectations.  In addition, she takes her responsibilities seriously, and it shows in her daily work. COLA is proud to call her one of our own.
John Duvall Communications Award – Kathy Nucifora

The John Duvall Communication Award is given to an employee who exhibits exemplary communication practices within COLA or the industry, exemplifies COLA's vision and values, and solicits the opinions and input of other employees as a means to foster outstanding business results.
During meetings, Kathy is mindful to acknowledge everyone that's present.  If others are dominating the conversation, Kathy will make it a point to solicit a response from those who haven't had an opportunity to speak.  Kathy knows her co-workers well and she will reach out in a gentle and caring way to those who are timid or unsure of themselves, in the hope that they will gain confidence in themselves and offer their ideas and input.
Communication isn't just about how you speak or write, it's also about setting the example and encouraging others to get involved.  Kathy is the total package.  Her communication skills, her knowledge of the business, and her professionalism are a huge asset to COLA.  COLA is very fortunate to have her with us.  She sets a great example for all of us to follow.
J. Stephen Kroger Employee Excellence Award – Susan Densford
The J. Stephen Kroger Employee Excellence Award is given to an individual who exhibits exemplary accomplishments within COLA, achieves strategic scorecard goals, participates in division and/or company-wide activities, and is viewed as a role model in exhibiting COLA's values.
Susan is a fantastic role model within COLA.  She is committed to excellence in her daily work.  She communicates with all staff across COLA, CRI, and NextLogiK.  Susan handles customer complaints related to the survey process with professionalism. She provides constructive feedback to Surveyors in a positive manner, with improving COLA's brand as the focal point of her activities.
Susan works nonstop to respond to the needs of her Surveyor team.  She responds to issues any time of the day, and on weekends, in order to support the Surveyors in the field.  She is an asset to the accreditation division and all of COLA.
Alka G. Patel Outstanding Service Award: Named for a much beloved former COLA employee, the Alka G. Patel Award salutes employees who provide excellent service to COLA in administrative or other capacities.
        Sandy Williams: Her personal commitment to quality is obvious in everything she does, and her ability to accommodate, even when it isn't easy or convenient, assures others of a continuing, enjoyable, successful relationship. Sandy is always respectfully in supporting our customers and employees alike. While Sandy is well known for her excellent service of COLAcentral, she is also involved in the development and support of many other products including LabUniversity and LabClarity to name a few. Sandy proves her ability to shine in many areas whether it's training, her meticulously management of our help desk, presenting at Symposium, or traveling to the Joint Commission to support Lab Central – she is exceptional at everything she does. Sandy is always professional.
         Larry Senior: As soon as he started working with COLA as our then Junior Network Administrator, Mr. Larry Senior hit the ground running and hasn't slowed down since. This past year has introduced many, many challenges for Larry and his commitment to excellence has inspired others to push past mediocrity. Larry helped lead the move of NextLOGiK to a new location and even though his desk is down the street, his commitment to be ready and available for COLA staff at HQ makes it feel as if he never left. Larry has also been charged with the not-so-small-task of ensuring all COLA staff are able to work and interact virtually … all without comprising our service to customers.
If you would like to follow COLA for more timely updates and industry perspectives, you can follow/subscribe at the following links: