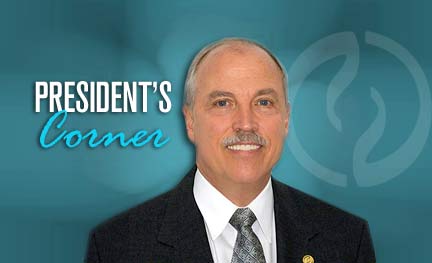 A Time of Uncertainty in Washington
By COLA CEO Doug Beigel
If you're confused about what's going on in Washington, D. C. these days, you're not the only one.
In the shadow of the Thanksgiving holiday weekend, the much-publicized Joint Select Committee on Deficit Reduction – also known as the Supercommittee – failed to craft bipartisan legislation to achieve $1.5 trillion in reductions to the federal deficit.
By most accounts, the Committee was designed to fail from the beginning. And as time went on, it became more apparent that the most important function of the parties was to assess blame rather than find solutions.
The Supercommittee – which seemingly considered many different deficit reduction strategies yet failed to reach agreement on any of them – operated in a state of perpetual uncertainty.
Its failure heaps even more uncertainty on top of the already convoluted budget process.
This affects everyone, including laboratories.
Because of the Supercommittee's failure, the deficit reduction process outlined in the law passed last summer resumes. Congress and the president must agree on $1.2 trillion in cuts during 2012. These cuts would begin to take effect in January 2013 and extend over the ensuing decade.
In other words, final action on some of the deficit reduction ideas debated by the Supercommittee – including possible long-term reductions in reimbursements to Medicare providers and various proposals to establish a patient copay for lab services under Medicare Part B – has been punted right into the middle of an election year.
Of course, cuts in health care programs could affect the quality of patient care and compromise patient safety as lower government spending and lower reimbursement rates could reduce the number of labs and qualified lab personnel available to perform tests to detect dangerous or life threatening conditions.
And if that wasn't enough uncertainty, President Obama's healthcare law is awaiting Supreme Court scrutiny, throwing the future of various aspects of the plan into limbo.
And, rules establishing "Accountable Care Organizations" – a new cost savings model which may transform the way providers deliver and patients receive healthcare – will take effect in January.
But this overarching sense of uncertainty which casts a pall over the entire healthcare community itself has the potential to impact labs' ability to serve patients even before the first cut comes.
Uncertainty can deter labs from making investments in new technologies, personnel and other improvements which ultimately translate into improved quality and greater patient safety. It is difficult to move in a certain direction when you don't know what will be waiting for you on the other end.
On the patient side, uncertainty may deter patients from seeking lab tests because they fear it will cost them more based on what they have heard in the media.
The only cure for uncertainty is information.
COLA conducted a national survey of its labs last fall. It revealed that, while 58 percent of COLA labs expect that a lab patient copay under Medicare will eventually become law, 53 percent do not know how their operational expenses would be impacted.
COLA also conducted a survey of all labs within its home state of Maryland – where Johns Hopkins Medicine and the National Institutes of Health are located. Despite the sophistication of the state's healthcare community, an astonishing 73 percent of respondents were unaware of the copay proposal.
What's more, the survey found that only 18 percent of labs had even heard of the ACO concept. And, of these, 58 percent incorrectly believe that ACOs have no applicability to their ability to operate.
Laboratorians don't often have the time to keep abreast of the inter-workings of Washington. Nonetheless, given the number of changes and uncertainties on the landscape, it has never been more important to do so.
COLA plays an educational role for its clients and the lab community as a whole. Moving forward, we will ensure that updates about the federal budget, legislation, regulations, and other relevant public policy developments in Washington are part of our ongoing educational activities.
In the meantime, I encourage lab professionals to keep an eye on the byzantine, often frustrating, and always confusing federal budget and policy-making processes as events unfolds in the months ahead.
If you would like to follow Doug directly for more timely updates and industry perspectives, you can follow/subscribe to him at the following links: