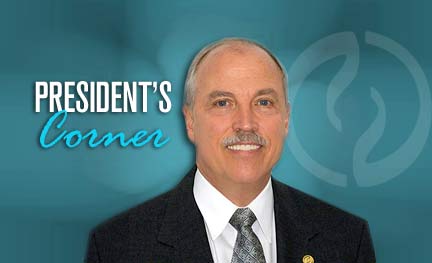 Growing the Laboratory Workforce Is Our Responsibility
By Douglas Beigel, Chief Executive Officer, COLA
"Crisis" is used often when discussing the nation's healthcare system. Frequently it refers to the challenges faced by the uninsured.  Sometimes it describes the burdens imposed by ever-increasing healthcare costs or a significant public health challenge.
A healthcare crisis is quietly unfolding in our nation's laboratories.  This crisis has developed largely off the public's radar screen. If not resolved, it can adversely impact the lives of every American.
The crisis in question:  alarming shortages within the laboratory workforce.   
Lab testing has an estimated impact on over 70 percent of medical decisions.  That percentage will grow as baby boomers retire and preventive coverage – including screening tests performed by labs – increases as part of federal healthcare reform.
But according to an annual survey performed by the American Society for Clinical Pathology (ASCP), 43 percent of clinical laboratories report difficulties hiring personnel nationwide.  ASCP also found that one-fifth of blood banking and histology labs spend more than a year filling vacant supervisory positions, and that hiring for immunology and phlebotomy is difficult for both day- and night-shift positions.
Federal statistics also document the shortage.  According to the Bureau of Labor Statistics (BLS), more than 40,000 current lab jobs are vacant in the United States.  But the size of tomorrow's projected shortage is even more daunting.
Right now, 14,000 new lab professionals are needed annually, yet educational programs produce only 5,000 per year. On top of that, by 2018 the number of clinical lab positions will increase by about 25,000 jobs.
What's more, the current lab workforce is aging. Thirty-six percent of lab workers are baby boomers ages 50 – 59, making it the single biggest subgroup by age in the profession. During the next five years, immunology, histology, and chemistry will be the departments most hardly hit by retirements.
The lab workforce is truly a national phenomenon.
In California, 850 new lab techs – one third of the state's lab tech population – will be needed to replace workers set to retire by 2015. However, the state's colleges produce only 125 graduates per year. 
In COLA's home state of Maryland – home of Johns Hopkins Medicine, the University of Maryland Medical System, and the National Institutes of Health – the state Commission on the Shortage in the Healthcare Workforce ranked "Medical and Clinical Laboratory Technicians" the ninth most in-demand healthcare occupation. 
The lab workforce shortage is a problem which neither government nor academia can solve alone. The lab community itself needs to step up, too.
This summer, COLA professionals introduced students in two Baltimore schools to the exciting world of laboratory sciences. We answered their questions and engaged them in a series of exciting lab demonstrations.  At one of the schools, a majority of kids raised their hands when we asked them if they would consider a laboratory career.
Later we took the same message to students at CCBC-Essex. Our goal is to create a sustainable recruitment and education model which can be duplicated across the country.
I strongly encourage each hospital, research, or physician-owned lab along with manufacturers of laboratory products to launch their own workforce development initiatives.  It is time for the lab community to apply its energies, creativity, and proven problem-solving skills towards addressing an issue which concerns everyone.
The good news is that we have a compelling story to tell. A lab career offers young people a stable, attractive, potentially lucrative professional path during economically challenging times.
US News and World Report chose "Laboratory Technicians" as one of the best careers of 2011. In terms of salaries, the staff level Medical Technician/Medical Laboratory Scientist/Clinical Laboratory Scientist national average is $54,412 per year and $65,478 per year at the supervisory level.
Growing the lab workforce is another opportunity for the lab community to exhibit leadership over the future direction of healthcare.  We can do that through establishing mentoring relationships, funding scholarships, and by engaging each other and soliciting ideas.
Most importantly, we can do that by simply spreading the word that lab workers are important, make a good living, and make a difference in the lives of others.
If you would like to follow Doug directly for more timely updates and industry perspectives, you can follow/subscribe to him at the following links: