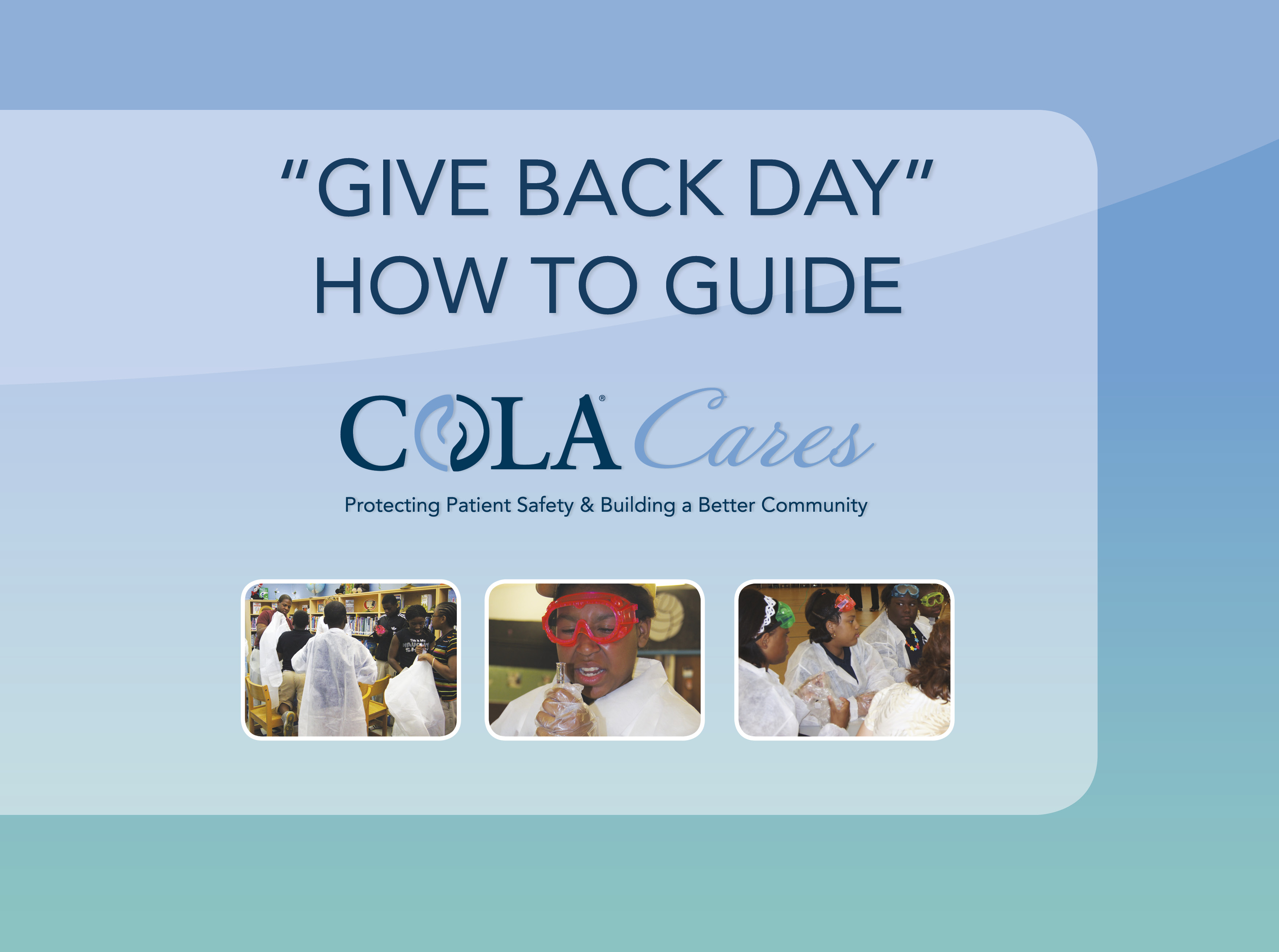 COLA is launching a new program to help laboratories educate young people about the many job opportunities that exist in laboratory science careers. The initiative, introduced during National Medical Laboratory Professionals Week, April 22-28, is designed to address the growing shortage of lab professionals.
Entitled "Give Back Day," the program empowers laboratory staff at all levels to "give back" to the local community by exposing young students in their area to the laboratory industry. It consists of a free "How To" kit for engaging local elementary and middle school students in lab demonstrations and getting them animated about the unknown world of laboratory medicine.
"As we salute the more than 300,000 medical laboratory professionals around the country who perform and interpret millions of tests in the U.S. each year, we must also focus on the growing lab worker shortage that, if not resolved, can adversely impact the lives of every American," said Doug Beigel, Chief Executive Officer of COLA.
More than 40,000 current lab jobs are vacant in the United States according to the Bureau of Labor Statistics (BLS). But the size of tomorrow's projected shortage is even more daunting, with more than
14,000 new lab professionals needed annually. Educational programs only produce about 5,000 new professionals each year.
"The good news is that a lab career offers young people a stable, attractive, potentially lucrative professional path during economically challenging times," added Beigel. "For example, _US News and World Report_ chose 'Laboratory Technicians' as one of the best careers of 2011. The 'Give Back Day' concept is designed to educate young people about the many job opportunities that exist in laboratory science careers, and the enormous contributions these workers make to delivery of the kind of safe and effective care patients deserve."
COLA developed the "Give Back Day" initiative after recently exposing over 30 students in two Baltimore schools to the world of laboratory science by staging a series of exciting lab demonstrations. The success of the program prompted COLA to create a kit for interested laboratories, including step-by-step instructions for:
• Engaging potential partners such as local Big Brothers/Big Sisters or Boys and Girls Clubs chapters
• Identifying and selecting schools willing to participate
• Developing program content and curriculum featuring laboratory demonstrations
• Procuring needed materials
• Contacting other local civic officials and organizations to join in the event
• Publicizing the event to local media
To obtain a copy of the Give Back Day kit, contact Richard Cross at rcross@cola.org. One the physical kits have been exhausted, it will be made available electronically at www.COLACares.com.
If you would like to follow COLA for more timely updates and industry perspectives, you can follow/subscribe at the following links: