COLA HOSTS LABORATORY FORUM FOR ALLIED HEALTH STUDENTS
Howard Community College Event Highlights the Impact of Quality Laboratory Testing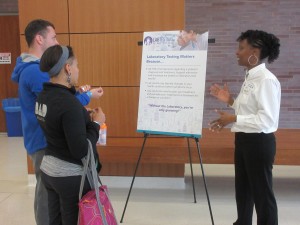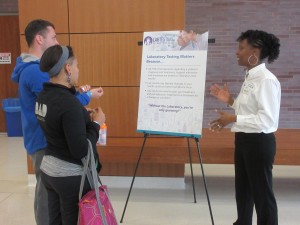 COLA, a national laboratory accreditor and an advocate for quality in laboratory medicine and patient care, hosted an interdisciplinary workshop on November 10 to discuss and promote the impact of laboratory medicine across the entire health care system.  The event was held at Howard Community College in Columbia, MD.
COLA employees were on-site at the college to present the important connections between laboratory testing and allied health professions including, nursing, radiology, physical therapy, public health, emergency medical services, and more. The forum was designed to present students and faculty with a basic knowledge of the critical role quality laboratory testing plays and its effect on diagnosis and treatment in various health care settings.
"Increasingly, allied health professionals are responsible for administering laboratory functions," said Douglas Beigel, CEO of COLA. "We are happy to be able to do our part in educating the current and future members of the overall health care system about the importance of quality and excellence in laboratory medicine and patient care."
"To a laboratory scientist, following Quality Assurance procedures during the pre-analytical, analytical, and post-analytical phases of laboratory testing are the most important factors in providing quality patient care," said Nancy Calder MT (ASCP), M.A.Ed., Chair of the Medical Laboratory Technician Program at Howard Community College. "Partnering with COLA in educating medical professionals in the art of good laboratory practices is inspirational."
In 2013, COLA announced a $25,000 endowment to expand Howard Community College's then newly created Medical Laboratory Technician program. The gift was designed to help foster awareness of laboratory science careers.
About COLA
COLA accredits nearly 7,500 medical laboratories and provides the clinical laboratory with a program of education, consultation, and accreditation. The organization is an independent, non-profit accreditor whose education program and standards enable clinical laboratories and staff to meet U.S. CLIA and other regulatory requirements.  COLA is recognized by the Centers of Medicare and Medicaid Services as a deemed accrediting organization.  COLA's program is endorsed by the American Medical Association (AMA), the American Academy of Family Physicians (AAFP), the American College of Physicians (ACP), and is also recognized by The Joint Commission.  For more information about COLA accreditation services and educational products, and online educational opportunities, please call 800-981-9883 or visit COLA's web site at www.cola.org.