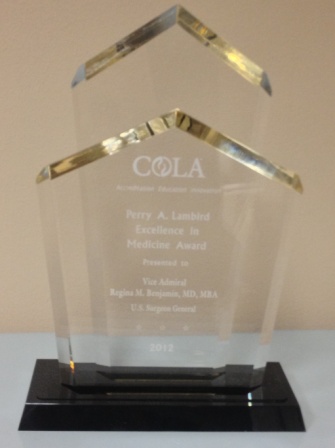 COLA has announced that U.S. Surgeon General, Vice Admiral Regina M. Benjamin, MD, MBA, is the 2012 recipient of the organization's Perry A. Lambird Memorial Excellence in Medicine Award.
The national award is bestowed annually on a health care industry professional who exemplifies the values and ideals of Dr. Lambird, a COLA founder and leader who was dedicated to improving the quality of laboratory testing.
Dr. Benjamin was chosen as the 16th recipient of the Perry A. Lambird award because of her outstanding contributions to protecting and advancing public health in her current role as Surgeon General, and her relentless commitment to programs that fight preventable illness. Dr. Benjamin, a former COLA board member, also was cited for her "unique understanding of laboratory accreditation issues and the critically important role of laboratory medicine in quality patient care."
Some recent past recipients of this award include Dr. Alan Nelson, former president of the American Medical Association and World Medical Association; James O. Westgard, Ph.D., the world-renowned expert in laboratory quality control; Dr. Isabel Hoverman, M.D., MACP, the Chair of The Joint Commission's Board of Commissioners; and Representative Elijah Cummings (D-7th, MD) the first public servant to receive the award.
"We are extremely honored to confer COLA's highest honor on Dr. Benjamin for her outstanding contributions to protecting and advancing public health in her role as Surgeon General, and her commitment to programs that fight preventable illness," said Douglas Beigel, CEO of COLA.
The 18th Surgeon General of the United States, Dr. Benjamin provides the public with the best scientific information available on how to improve their health and the health of the nation. Dr. Benjamin also oversees the operational command of 6,500 uniformed public health officers who serve in locations around the world to promote, and protect the health of the American People. From her early days as the founder of a rural health clinic in Alabama – which she kept in operation despite damage and destruction inflicted by hurricanes Georges (1998) and Katrina (2005) and a devastating fire (2006) – to her leadership role in the worldwide advancement of preventive health care, Dr. Benjamin has forged a career that has been recognized by a broad spectrum of organizations and publications.
Dr. Benjamin has a B.S. in chemistry from Xavier University, New Orleans, an M.D. degree from the University of Alabama at Birmingham and an MBA from Tulane University. She attended Morehouse School of Medicine and completed her family medicine residency in Macon, Ga. Dr. Benjamin holds 18 honorary degrees.
If you would like to follow COLA for more timely updates and industry perspectives, you can follow/subscribe at the following links: