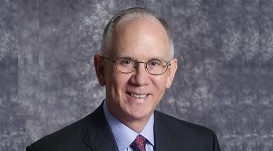 COLUMBIA, MD, January 30, 2015 – COLA, a leading laboratory accreditor, today announced that Douglas E. Henley, MD, FAAFP, Chief Executive Officer/Executive Vice President of the American Academy of Family Physicians (AAFP), is the 2015 recipient of the organization's Perry A. Lambird Memorial Excellence in Medicine Award. The national award is bestowed on a professional who exemplifies the values and ideals of Dr. Lambird, a COLA founder and leader dedicated to improving the quality of laboratory testing.
Dr. Henley was chosen as the 15th recipient of the Perry A. Lambird award because of his outstanding contributions to healthcare resulting from his leadership at the American Academy of Family Physicians and tireless support for improving quality in laboratory medicine. An AAFP member and volunteer since 1973, Dr. Henley has used his current position to embrace opportunities and assignments that have helped him personally shape the rapidly changing healthcare landscape.
"We are extremely honored to confer COLA's highest award on Dr. Henley, particularly this year, as we mark sweeping changes in healthcare that have brought forth Patient Centered Medical Homes, and exponential growth in retail clinics and the number of waived testing products," said COLA Chief Executive Officer Douglas Beigel. "Because of his leadership and direction, we are experiencing improved quality in clinical laboratory testing, which translates into improved patient care."
"I am honored to receive the Perry A. Lambird Memorial Excellence in Medicine Award. Higher quality clinical laboratory testing plays an important role in the AAFP's overarching goal to improve the health of our nation. Such testing at the point of care can be essential to improving the delivery and outcomes of patient-centered primary care. Together, we can make a difference for patients all over the United States," Henley said.
Some recent past recipients of this award include Dr. Alan Nelson, former president of the American Medical Association and World Medical Association; James O. Westgard, Ph.D., the world-renowned expert in laboratory quality control; Dr. Isabel Hoverman, M.D., MACP, past chair of The Joint Commission's Board of Commissioners; Representative Elijah Cummings (D-7th, MD); U.S. Surgeon General Regina M. Benjamin, MD and Senator Barbara Mikulski (D-MD).
About Dr. Henley
Douglas E. Henley, M.D., FAAFP, serves as executive vice president and chief executive officer for the American Academy of Family Physicians. The AAFP is the medical specialty organization representing 115,900 family physicians and medical students nationwide. Henley works with the AAFP Board of Directors on the mission, strategy and vision for the AAFP and provides representation to other organizations, including medical, public, and private sectors. He also serves on the board of directors of the AAFP Foundation, the charitable arm of the AAFP.
Dr. Henley has served on the board of directors of the Patient-Centered Primary Care Collaborative, a coalition of more than 700 businesses, consumers and health care organizations that have joined together to advocate for the Patient-Centered Medical Home (PCMH) healthcare delivery model. As a commissioner on the American Health Information Community, Dr. Henley played a personal role in helping to prepare physicians for the move toward electronic health records.
Prior to assuming the position of executive vice president, Henley was in private practice for 20 years in his hometown of Hope Mills, N.C. He is the first practicing family physician to be named executive vice president and the first AAFP past-president and board chair to serve in that position. Henley is a graduate of the University of North Carolina School of Medicine, Chapel Hill, and the university's family medicine residency program. He is board certified by the American Board of Family Medicine and has the AAFP Degree of Fellow, an earned degree awarded to family physicians for distinguished service and continuing medical education.
About COLA
COLA accredits nearly 8,000 medical laboratories and provides the clinical laboratory with a program of education, consultation, and accreditation. The organization is an independent, non-profit accreditor whose education program and standards enable clinical laboratories and staff to meet U.S. CLIA and other regulatory requirements. COLA's program is endorsed by the American Medical Association (AMA), the American Academy of Family Physicians (AAFP), the American College of Physicians (ACP), and is recognized by the Joint Commission on Accreditation of Healthcare Organizations (TJC). For more information about COLA accreditation services and educational products, and online educational opportunities, please call 800-981-9883 or visit COLA's web site at www.cola.org or www.colainsider.org.
Media Contact – Melissa Nichols • Alvare Associates • 610-520-6140 x 204 • mnichols@alvare.com 
If you would like to follow COLA for more timely updates and industry perspectives, you can follow/subscribe at the following links: