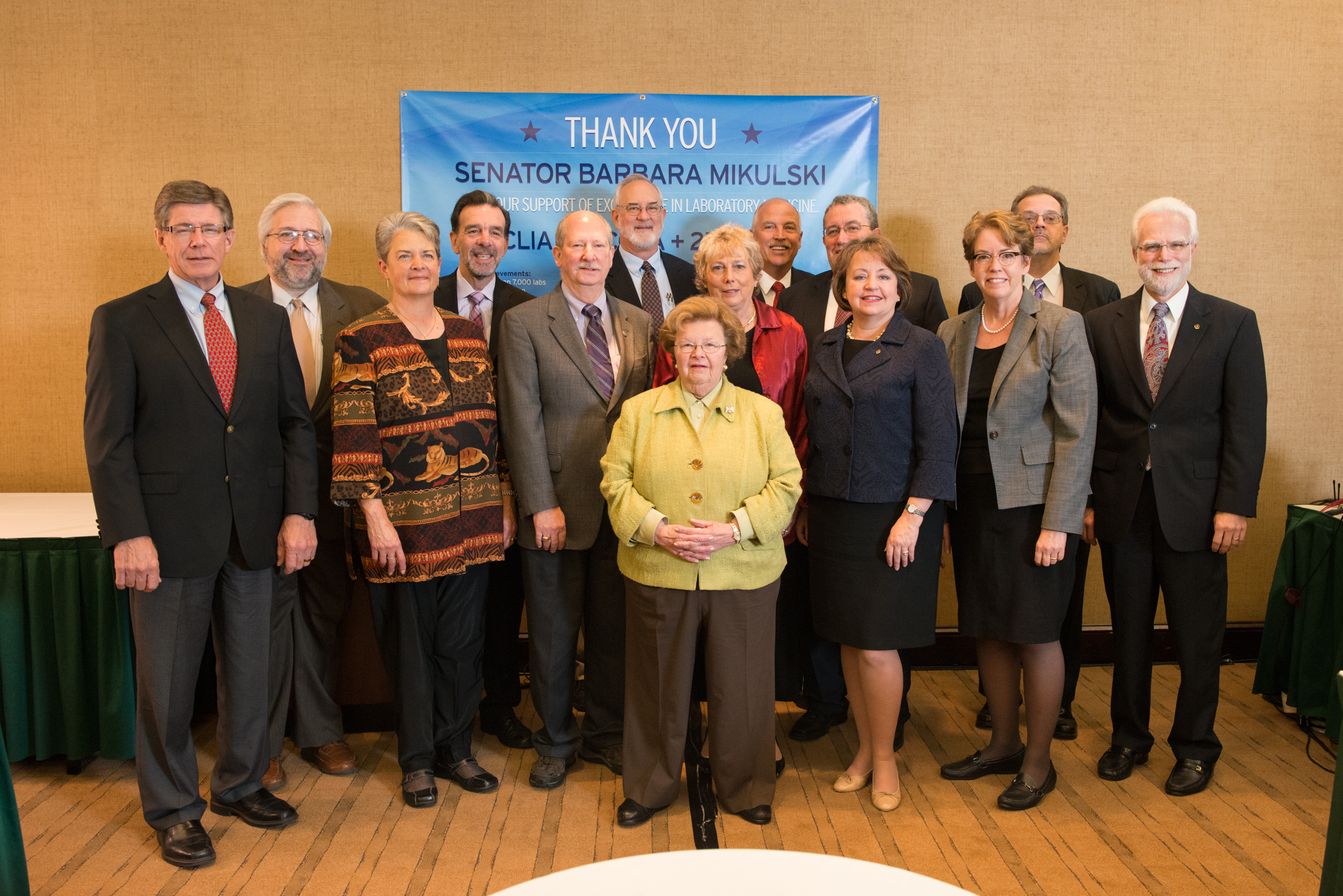 COLA announced that U.S. Senator Barbara A. Mikulski (D-MD)is the 2013 recipient of the organization's Perry A. Lambird Memorial Excellence in Medicine Award.  This award is bestowed annually on a professional who exemplifies the values and ideals of Dr. Lambird, a COLA founder and leader who was dedicated to improving the quality of laboratory testing.
Senator Mikulski was chosen as the 17th recipient of the award because of the leadership role she played in the passage of the Clinical Laboratory Improvement Amendments (CLIA), enacted by Congress in 1988 in response to public concerns about the quality of laboratory testing, particularly in physician office laboratories.  Senator Mikulski was a leading sponsor of the legislation, which promulgated quality assurance practices that require labs to measure performance at each step of the testing process, and brought all U.S. clinical laboratories under uniform regulations. This year marks the 25th anniversary of CLIA's enactment. 
Senator Mikulski received her award at a meeting of the COLA Board of Directors on October 26.  
"We are extremely honored to confer COLA's highest award on Senator Mikulski, particularly this year, as we mark the 25th anniversary of both the passage of CLIA '88 and the formation of COLA as a private accreditor of clinical laboratories," said COLA Chief Executive Officer Douglas Beigel.  "Because of her leadership and tenacity, regulations were put in place that have resulted in improved quality in clinical laboratory testing as well as patient safety." 
 "I'm so honored to receive this tremendous award that honors the mission of COLA — which is to protect patients and save lives," said Senator Mikulski.  "Medical laboratories play such an important role in our nation's health care system. We rely on these labs to provide accurate, timely, and reliable test results so that doctors and patients can make informed health care decisions.  Twenty-five years ago, it was revealed that an astounding forty percent of Pap Smear tests were being read inaccurately.  We made a commitment then and there that no woman should die of cervical cancer, no man should die of prostate cancer, because of a false-negative test.  I am so proud to have authored CLIA, which requires proficiency testing and sets minimum national quality standards for labs. But that law only works because of organizations like COLA – the boots on the ground experts who educate, consult, and accredit our nation's labs."
The longest serving woman in the history of the U. S. Congress, Barbara Mikulski was first elected to the United States Senate in 1986 after having previously served in the U. S. House of Representatives for five terms.  She chairs the influential Senate Appropriations Committee and also serves on the Senate Health, Education, Labor, and Pensions Committee (HELP) and the Select Committee on Intelligence.  The senator received a Bachelor of Arts in Sociology from Mount Saint Agnes College, and obtained her master's degree in social work (MSW) from the University of Maryland School of Social Work. She is a native of Baltimore.
Some recent past recipients of this award include Dr. Alan Nelson, former president of the American Medical Association and World Medical Association; James O. Westgard, Ph.D., the world-renowned expert in laboratory quality control; Dr. Isabel Hoverman, M.D., MACP, the Chair of The Joint Commission's Board of Commissioners; Representative Elijah Cummings (D-7th, MD), and former U.S. Surgeon General Regina M. Benjamin, MD.
If you would like to follow COLA for more timely updates and industry perspectives, you can follow/subscribe at the following links: