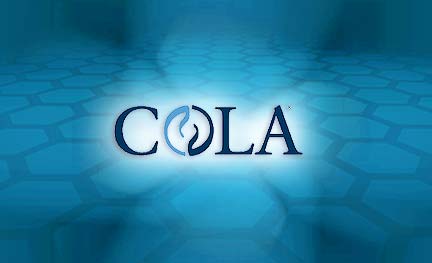 COLA is featured in a new best-selling book entitled, Grow Regardless, written for small to mid-sized businesses seeking to create fundamental organizational change.
The book details a method that management consultant Joe Mechlinski has used to help hundreds of companies grow despite a tough economy as co-founder and CEO of entreQuest, Inc., a Baltimore management consulting firm.
He cites COLA as an example of an organization that has constantly readjusted and "reset" itself in order to remain vital within the rapidly changing health care industry.  The book features an interview with COLA Chief Executive Officer Douglas Beigel, who describes how the company used an employee survey process to ensure its accreditation services continue to meet the needs of patients amidst massive change in U.S. health care.
"COLA's story is a shining example of how the process of "RESET" should work when implemented correctly," said Mechlinski. "Without Doug's resolve, leadership and dedication to RESET, COLA would not be what it is today—a company centered on the mission to increase patient safety and enhance the quality of healthcare in a time of diminished resources and industry volatility."
In the book, Beigel describes the employee survey as an "actionable" tool that has driven the organization to reforms and helped to align its 170-member work force with the accreditor's mission.  "As a CEO, you should know all your resources and whether they're aligned with moving in the direction your organization needs to go," said Beigel.  "Wherever you see disconnects or gaps forming, that's where the opportunities for reset are," he added.  "While the process required an incredible commitment on everyone's part, the stakes are enormous, when you realize that you are helping to create a culture that maximizes patient care and safety from a laboratory perspective.  And laboratories are essential components of the health care team."
Beigel said an example of how COLA has reset its focus is the organization's new laboratory recognition program, called Patient Centered Laboratory Excellence (PCLE).  The program emphasizes continuous good laboratory practices above and beyond current regulatory requirements for moderate and high complexity labs.  It is designed to assist Patient Centered Medical Home practices in delivering quality and value-driven laboratory medicine to their patients.
"Through the PCLE program, COLA is helping to frame the laboratory's proper role in emerging new healthcare delivery models such as the Patient-Centered Medical Home (PCMH) and Accountable Care Organizations (ACO)," he said.  "Practitioners using the services of a COLA PCLE-recognized laboratory can be assured of high quality results, generated by well-trained staff using state-of-the- art communications to deliver enhanced access to results to both patients and providers.
If you would like to follow COLA for more timely updates and industry perspectives, you can follow/subscribe at the following links: