COLA CONFERS PRESTIGIOUS AWARD ON DR. CECIL WILSON


Recipient is Past President of Both World and American Medical Associations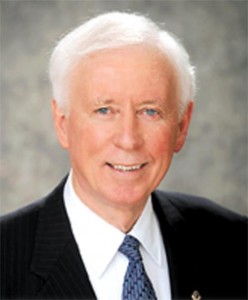 COLA, a national laboratory accreditor and an advocate for quality in laboratory medicine and patient care, announced that Cecil B. Wilson, M.D., the President of the World Medical Association (WMA) from 2012-2013, is the 14th recipient of the Perry A. Lambird Memorial Excellence in Medicine Award.  The national award is bestowed on a professional who exemplifies the values and ideals of Dr. Lambird, a COLA founder and leader dedicated to improving the quality of laboratory testing.
An internist in private practice in Winter Park, FL, Dr. Wilson was chosen to receive the award because of his distinguished record of service and leadership in organized medicine.  In addition to his role at the WMA, he also served as President of the American Medical Association (AMA) from 2010 to 2011, and is both a former member as well as Chair of the AMA's Board of Trustees as well as its delegation to the WMA. In 2002, he was Chair of the Board of Regents of the largest specialty society association, the American College of Physicians (ACP).
"Throughout his distinguished career, Dr. Wilson has helped to shape the rapidly changing healthcare landscape, and has been an ally in our advocacy efforts to improve quality in laboratory testing, which translates into improved patient care," said COLA Chief Executive Officer Douglas Beigel. "We are extremely honored to confer COLA's highest award on Dr. Wilson in recognition of his leadership."
"It has been a privilege in the past to be a part of COLA, and I am honored to be given this award," said Dr. Wilson.  "This is a voluntary organization of physicians whose goal speaks of using education to improve laboratory quality and in the process to help our patients."
Some recent past recipients of this award include Dr. Douglas Henley, Chief Executive Officer and Executive Vice President of the American Academy of Family Physicians; Dr. Alan Nelson, former president of the American Medical Association and World Medical Association; James O. Westgard, Ph.D., the world-renowned expert in laboratory quality control; Dr. Isabel Hoverman, M.D., MACP, past chair of the Joint Commission's Board of Commissioners; Representative Elijah Cummings (D-7th, MD); U.S. Surgeon General Regina M. Benjamin, M.D., and Senator Barbara Mikulski (D-MD).
About Dr. Wilson
After receiving his bachelor's degree in history and his doctorate from Emory University, Atlanta, Dr. Wilson interned at the U.S. Naval Hospital, Portsmouth, VA, and completed his residency in internal medicine at the U.S. Naval Hospital, San Diego. He served as a Navy flight surgeon, rising to the rank of commander.
Dr. Wilson has been in private practice of internal medicine in Central Florida for more than 30 years. He is board-certified in internal medicine, and a Master of the American College of Physicians (ACP), as well as Past Chair of the organization's Board of Regents. He also served on the board of the American Society of Internal Medicine (ASIM) and was a member of the merger committee between ACP and ASIM, which resulted in the largest medical specialty society in the United States.
At the state level, he was president of the Florida Medical Association (FMA) and chair of its board of governors and executive committee. He has been recognized by the FMA with its highest award, the Certificate of Merit, and also is the recipient of the prestigious Laureate Award for service to internal medicine from the Florida chapter of ACP, and the Charles Donegon Award. In 2010, he received the Arnold Patz Lifetime Achievement Award, Emory University School of Medicine.
Dr. Wilson is currently a national fellow and advisor for the Center for Global Health and Medical Diplomacy at the University of North Florida, and a clinical professor in health administration in the Brooks College of Health at the university.
About COLA
COLA accredits nearly 7,500 medical laboratories and provides the clinical laboratory with a program of education, consultation, and accreditation. The organization is an independent, non-profit accreditor whose education program and standards enable clinical laboratories and staff to meet U.S. CLIA and other regulatory requirements.  COLA's program is endorsed by the American Medical Association (AMA), the American Academy of Family Physicians (AAFP), the American College of Physicians (ACP), and is recognized by the Joint Commission on Accreditation of Healthcare Organizations (TJC).  For more information about COLA accreditation services and educational products, and online educational opportunities, please call 800-981-9883 or visit COLA's web site at www.cola.org