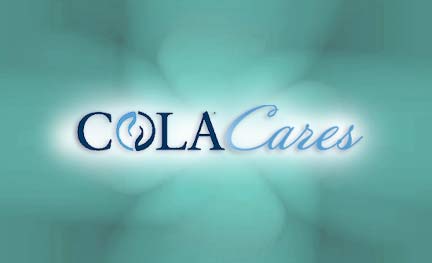 The exceptional work carried out by its entire team of professionals helps COLA fulfill its primary objective: Enhancing patient safety. Scheduled from June 13th – 16th, this year's "COLA Cares Week" will support that objective through exciting opportunities to celebrate COLA's successes, engage in professional development and community- reinforcing activities, and perform work which serves the greater good.
In the past, COLA's "Community Week" consisted mainly of training sessions and team-building activities for staff. This year, in addition to having a new name, the event will have a broader focus, as COLA professionals take their message of laboratory excellence into the community at large.
COLA staff will again have the opportunity to advance their own education through new COLA-specific training, interactions with CMS personnel, and manufacturers training sessions. There will be opportunities for COLA team members to interact during casual meal time gatherings and at the week's signature event: The Annual Awards Ceremony.
COLA's ability to educate is the core value it provides to the laboratory industry. Therefore, teaching others about the important role laboratories play in patient care, and the role of quality assurance in protecting patient safety, will be the focus of COLA's "Give Back Day." Through different activities in the community, COLA team members will illustrate the importance of investing in future technicians, and the quality of their work, for doctors, nurses, and patients alike.
"The clinical laboratory industry represents less than three percent of the healthcare budget yet provides up to 80% of the diagnostic information leading to medical decisions," stated Douglas Beigel, COLA's Chief Executive Officer. "Patients deserve to feel as confident about the work performed by the lab professionals they meet, as they do about the family doctor they know and trust. We want to celebrate and broaden public awareness of the lab professionals and accreditors whose efforts are so important to patients' healthcare needs."
COLA Cares Week will take place from June 13th – 16th, 2011. The schedule of events is under development and will be announced in the next few weeks.