COLA ANNOUNCES ROLE AS COLLABORATING PARTNER TO AACC'S LAB TESTS ONLINE
Kathy Nucifora, COLA Director of Accreditation, Confirmed as Member of Editorial Review Board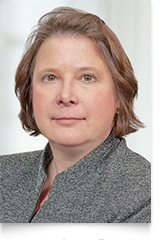 COLA, a national laboratory accreditor and advocate for quality in laboratory medicine and patient care, announced its new role as collaborating partner to Lab Tests Online, a health information web resource produced by AACC. Through this partnership, COLA's Director of Accreditation, Kathy Nucifora, MPH, MT (ASCP), has been confirmed as a member of the Lab Tests Online editorial review board.
Ms. Nucifora will join leading experts throughout the clinical laboratory industry in lending expertise towards developing and reviewing all content including articles on lab tests, conditions/disease screening, clinical laboratory topics and lab test news for the website. Lab Tests Online, www.labtestsonline.org, is an award-winning health information web resource designed to help patients and caregivers understand the many lab tests that are a vital part of medical care.
"I am honored to have the opportunity to work with AACC, Lab Tests Online and its collaborating partners to provide this critical resource to patients as well as healthcare professionals," said Ms. Nucifora.
Since 2009, Ms. Nucifora has overseen all facets of COLA's laboratory accreditation program on behalf of the organization's nearly 8,000 client laboratories. Before joining COLA as Accreditation Manager, Ms. Nucifora was recruited by Maryland General Hospital where she was responsible for creating and implementing new quality processes and procedures.
"Kathy's expertise and keen insight has kept COLA's accreditation program committed to the highest level of quality laboratory medicine and patient care within a constantly evolving healthcare environment," said Doug Beigel, CEO of COLA. "We are certain that expertise will be a valuable addition to Lab Tests Online and its readership."