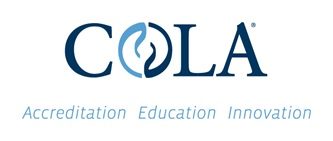 One of COLA's surveyors recently found a creative new way to use one of COLA's lab quality tools in a way that enhances its impact on patient safety.
In February, Leon Headley performed a survey on a new lab in Florida, a state which requires each new lab to undergo a survey before it begins seeing patients. The lab manager expressed to Headley his desire to track the lab's progress once it was operating and actually seeing patients. Headley suggested that a self-assessment might serve that purpose.
The lab manager took Headley's advice to heart. In March – after the lab had opened its doors and submitted its corrective actions in response to the Plan of Required Improvement (PRI) resulting from Headley's survey – the lab performed a self-assessment using COLAcentral. The lab manager plans to have his staff perform another self-assessment after the lab has been operating a couple of months.
"Leon deserves much credit for this innovation," stated Kathryn Connolly, COLA's Quality Systems Manager. "To my knowledge, this is the first time it's been suggested that a self-assessment be used this way. Typically labs use them as a preparatory tool for an upcoming survey, rather than as a tool for gauging progress after one has already happened."
"This experience illustrates two important elements in action: Quality and innovation," stated COLA CEO Doug Beigel. "With respect to quality, this lab demonstrated that its focus is on ensuring and enhancing quality rather than simply fulfilling rote bureaucratic requirements.
"All of COLA's nearly 8,000 clients must undergo a biennial survey, and all are focused on providing quality laboratory medicine and protecting patient safety. This is an example of a laboratory that used one of COLA's many tools to be focused on steps that will translate into improved patient safety. Utilizing self assessment and the tools available through COLAcentral can be of service to laboratories that want to follow this example and make the same choice."
"Regarding innovation, this term often means doing things differently, but it also applies to finding new applications for existing processes. Innovation is a big part of the COLA culture, and Leon's actions reflect that."
Beigel suggested that every one of COLA's clients has the capacity to perform a self-assessment at their fingertips. "COLAcentral is configured to each lab's own test menu, so we can already have the tools to help each of our clients perform a self-assessment desk review," Beigel noted. "No other accrediting authority is in a position to work with labs to ensure quality in between their surveys."
Beigel expressed a desire to help change the gestalt which governs decision-making in some quarters of the lab community. "We want to change the focus from biennial compliance to daily quality assurance," he stated. "This new approach to utilizing self-assessment is the kind of tool that will help us get us there."