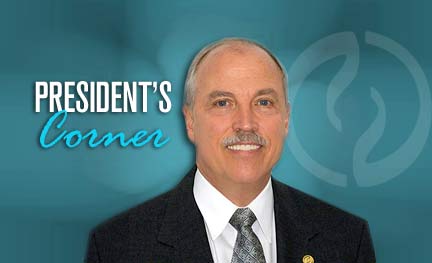 By Douglas Beigel, CEO, COLA
September, 2012
With the presidential election only weeks away, the healthcare debate will only continue to intensify as it relates to federal healthcare reform, proposed changes to Medicare, budget "sequestration," and other health-related spending cuts.
It's a good time for all of us to shine a light on the critical role of laboratorians in the delivery of effective patient care, especially as the industry begins to prepare for more than 33 million new patients joining the healthcare system as a result of the Affordable Care Act.
Lab testing is estimated to impact over 70 percent of all medical decisions, a percentage that will only grow as baby boomers retire and preventive coverage – including screening tests performed by labs – increases as part of federal healthcare reform.
But the lab industry is facing alarming shortages within its workforce.  There are over 40,000 current lab job vacancies in the United States, and the size of tomorrow's projected shortage is even more daunting.
That is why COLA is sponsoring a series of programs in Baltimore October 8-13, designed to highlight current healthcare issues and their impact on clinical laboratories.  The highlight will be a major clinical symposium expected to draw medical professionals from across the U.S.
The week-long-series of events, entitled "COLA Cares Week," will kick off with the expected presentation of COLA's Perry A. Lambird Memorial Excellence in Medicine Award to the U.S. Surgeon General, Vice Admiral Regina M. Benjamin, MD, MBA.  The national award is bestowed annually on a health care industry professional who exemplifies the values and ideals of Dr. Lambird, a COLA founder and leader who was dedicated to improving the quality of laboratory testing.
Dr. Benjamin is being honored for her outstanding contributions to protecting and advancing public health in her role as Surgeon General, and her commitment to programs that fight preventable illness.  A former COLA board member, she also is being cited for her "unique understanding of laboratory accreditation issues and the critically important role of laboratory medicine in quality patient care."
During the week, COLA staff will also host Give Back Day programs at Morgan State University and the University of Maryland to broaden awareness among students of the many job opportunities that exist in laboratory science careers, and the enormous contributions these workers make to the delivery of safe, efficient and effective patient care.
COLA developed the Give Back Day initiative after recently exposing middle school students in Maryland to the world of laboratory science.  With its wealth of healthcare resources, including Johns Hopkins Medicine, the University of Maryland Medical System, and the National Institutes of Health, the state has a long tradition of excellence in providing healthcare, and has a vested interest in attracting future laboratorians. The state's educational system is also doing its part to increase awareness of the value of a lab science career.   For example, the University of Maryland Baltimore offers a robust menu of scholarships for aspiring lab students.
But, I think those of us who work in, with, or serve labs have a role to play in growing the lab workforce by sharing our own individual experiences. Each of us has a compelling story to tell, and that story has three common themes: lab workers are important, make a good living, and make a difference in the lives of others.
Later in the week, COLA will host its Symposium for Clinical Laboratories, which will feature laboratory medicine experts speaking on a variety of topics of interest to the healthcare community.  The national conference is expected to attract several hundred laboratory medicine experts, physicians, diagnostic laboratory staff, physician assistants, nurses and other medical personnel to Baltimore for a national dialogue about topics of interest to the physician office and hospital laboratory community.
During the conference, COLA will announce special scholarships that will be awarded to aspiring laboratory medicine students and will present an award to a laboratory from Joplin, MO for its diligent work in bringing its facility back to operational standards after a tornado demolished their office last year.  For many days following the devastating storm, this laboratory served as the area's only laboratory testing facility, while still managing to maintain the highest levels of patient care.
Through all of these programs and events, COLA hopes to highlight potential solutions to the workforce shortage and other challenges affecting the healthcare and laboratory industries. And we are very proud that the Baltimore area – COLA's home for more than a quarter of a century – will serve as the backdrop for a national discussion about these critical issues.
I hope you will join with us in this celebration of laboratory medicine.
If you would like to follow COLA for more timely updates and industry perspectives, you can follow/subscribe at the following links: