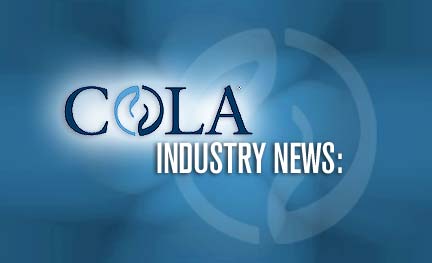 COLA recently received three prestigious Aster Awards in recognition of its marketing efforts during the past year.
COLA's awards spanned three different categories:
Special Events: Award presented for the COLA Cares Week of team- and industry-building events held in May 2011.
Advertising Specialty: Award presented for the COLA Cares T-Shirt created for the aforementioned event.
Newsletter: Award presented for COLA's Insights e-newsletter.
COLA was also was recognized in the Twenty-Ninth Annual Healthcare Advertising Awards, sponsored by Healthcare Marketing Report:
Bronze Award: Employee Communications Category for its Bamboo Contest
Merit Awards: Imprinted Material Category for its COLA Cares T-shirt; External Publications Category for COLA Insights newsletter.
The winning entries in both contests were designed and produced by The Merz Group, a brand building firm headquartered in West Chester, PA.
"We're extremely proud to have had our work recognized in these major healthcare marketing competitions," said Douglas Beigel, CEO of COLA. "As a physician-directed accrediting organization whose mission is to promote excellence in laboratory medicine and patient care, we strive to weave quality into all that we do, including our marketing communications efforts. We are gratified that our efforts have been honored."
The Aster Awards is a medical marketing awards program allowing healthcare organizations and advertising agencies to compete against similarly sized competitors from across the nation and world. Entries are scored, judged and recognized for excellence in healthcare marketing and advertising. The Aster Awards is hosted by Creative Images, Inc., an internationally recognized firm that has specialized in strategic healthcare marketing for more than 20 years.
Nearly 4,000 entries were received in this year's Healthcare Advertising Awards. A national panel of judges reviewed all entries based on creativity, quality, message effectiveness, consumer appeal, graphic design and overall impact.
If you would like to follow COLA for more timely updates and industry perspectives, you can follow/subscribe at the following links: