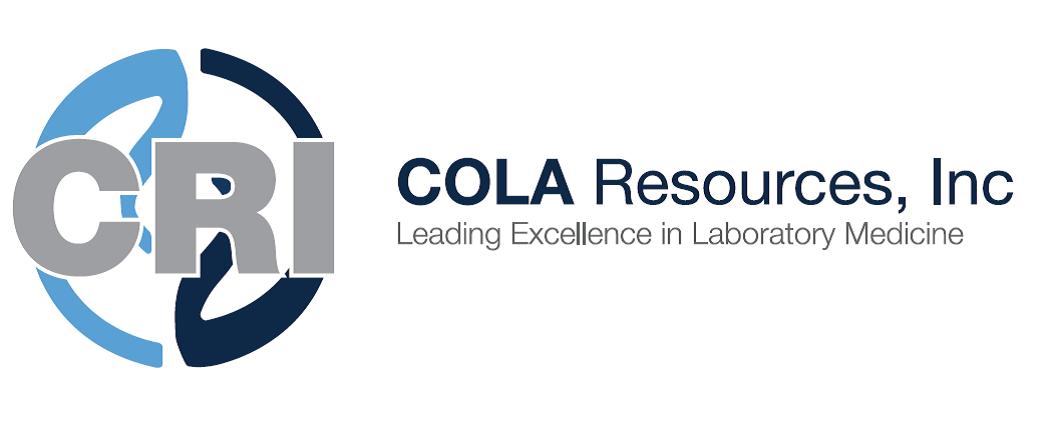 The annual CRI® Symposium for Clinical Laboratories is underway this week in Las Vegas, NV and COLA, a nationally-recognized, private, non-profit laboratory accreditation organization, is pleased to have been invited by CRI to present at their Symposium. Several Senior Leaders at COLA will share their expertise on several important topics related to excellence in laboratory testing.
John Daly, MD, COLA's Chief Medical Officer, and Verlin Janzen, MD, a member of COLA's Board of Directors, educate physicians who want to be laboratory directors at the popular Symposium Lab Director Course. Physicians who participate in this program receive the 20 CME credits required to qualify under CLIA 88 as laboratory directors. "In addition to addressing all aspects of the responsibilities of the physician in directing a laboratory, Dr. Janzen and I hope to inspire physicians to stay fully engaged with laboratory operations as a champion of quality and safety," said Dr. Daly.
Ms. Kathy Nucifora, MPH, MT (ASCP), COLA's Director of Accreditation, is also speaking at CRI's Symposium. Ms. Nucifora, has more than 30 years' experience in clinical laboratories, including holding positions in hospital laboratory administration and in physician office laboratories. She also has a wide range of teaching experience in the laboratory field. She is leading a breakout session on the responsibilities of a technical consultant, and she will join Kim Irwin, MT (ASCP), a COLA surveyor, on the technical topic of calibration verification and verification of performance.
Nicole Colby, MLS (ASCP), who is also on staff at COLA, is providing an introduction to toxicology, as well as presenting in sessions on the rise of tick-borne diseases and labs, and point-of-care options for sexually-transmitted disease testing.
Ms. Nancy Stratton, COLA's Chief Executive Officer, is also joining CRI® Symposium faculty. She will share with attendees her insights and best practices about how to prepare staff for onsite visits by their accreditor in such a way that they are always ready. "The symposium allows physicians and laboratory professionals to meet continuing education, certification, and licensing requirements while interacting with members of the clinical laboratory medicine community," said Nancy Stratton, CEO of COLA. "The Symposium is an ideal venue for accessing education for all levels of laboratory personnel making a positive impact for quality patient care. I am proud that COLA plays such a key part in the education part of the Symposium," she added.
The CRI® Symposium is being held in Las Vegas, NV from April 3 to 6, and offers attendees up to 20 CME or P.A.C.E.® credits. All of the presentations by COLA are eligible for CME or P.A.C.E.® credits.